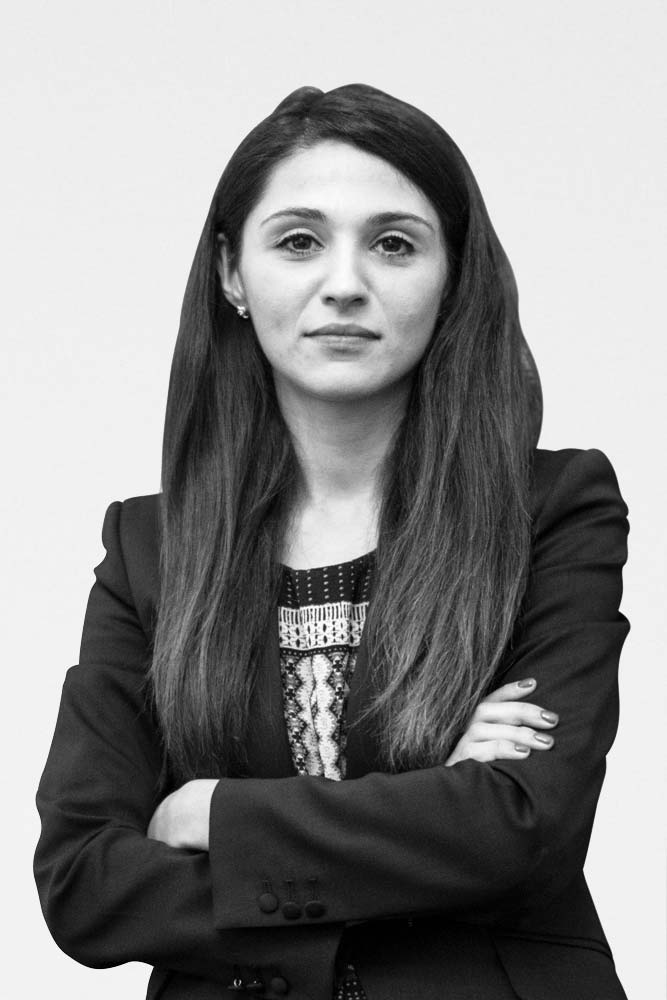 She has been collaborating with Sandulli & Associati Law Firm since 2017, mainly dealing with civil law and in particular, banking and bankruptcy litigation as well as dealing with issues related to bankruptcy proceedings.
2018: (still in progress) Research Doctorate XXXIV Cycle "Law and economic social institutions: regulatory and historical evolutionary profiles"  from the University of Naples "Parthenope", Department of Law, with scholarship. Disciplinary sector: Labour Law, Commercial Law, Corporate Crisis Law.

2016-2017: Training internship  (Art. 73, Legislative Decree 69/2013) – Civil Court of Nocera Inferiore (Salerno), Bankruptcy Section

2015: Law Degree with honors from the University of Salerno with a thesis in Commercial Law, "Governo societario, azioni a voto multiplo e maggiorazione del voto".
Professional Admissions / Qualifications
2019: Admitted to practice law
Civil law, Corporate Crisis law, Banking law.
G.E. Forino, being published "Verso la conferma del diritto sostanziale del correntista all'accesso alla documentazione bancaria", (nota Cass. Civ., Sez. VI, 30 ottobre 2019, n. 27769) Raccolta di Giurisprudenza – Un anno di sentenze, 2020.
G.E. Forino, being published, "I crediti retributivi del lavoratore nelle vicende traslative dell'azienda: quale tutela?", (nota Cass., Sez. Lav. 20 ottobre 2019, n. 27507) Raccolta di Giurisprudenza – Un anno di sentenze, 2020.
G.E. Forino, being published "Power of control and competition in the era of economic processes digitalization", presentato al 6th International Seminar on International and Comparative Labour Law on The Future of Work. Labour Law and Labour Market Regulation in the Digital Era, Atti del Convegno 27-31 maggio 2019, Università Cà Foscari, Venezia, Cedam Ed.
G.E. Forino, "La Liquidazione controllata delle società: natura sanzionatoria per la liquidazione controllata", in Guida al Diritto, Dossier, Il Sole 24 Ore, n. 5. settembre-ottobre 2019.
G.E. Forino "La disciplina dell'esdebitazione: quando scatta il beneficio dell'esdebitazione" in Guida al Diritto, Dossier, Il Sole 24 Ore, n. 5. Settembre-ottobre 2019.
G.E. Forino, Commento agli artt. 2351, 2414-bis, 2341-bis, 2341-ter codice civile in Codice commentato dell'impresa e della società, diretto da G. Fauceglia, 2018, Pacini Editore, Pisa.
G.E. Forino, "Osservazioni in tema di revocabilità dei canoni locatizi", Nota Cass. civ., 11.08.2016, n. 17044, in Il diritto fallimentare e delle società commerciali, n. 3-4/2017, p. 947 ss.
G.E. Forino "Ammissibilità del ricorso alla consulenza tecnica d'ufficio nel corso della istruttoria prefallimentare" in Atti del Convegno di Studi "La consulenza tecnica d'ufficio nel giudizio di cognizione e nell'esecuzione", Centro Studi di diritto processuale civile, Nesos, Salerno, 16 dicembre 2016, in www.centrostudinesos.it